Openhartig Dating - kaartspel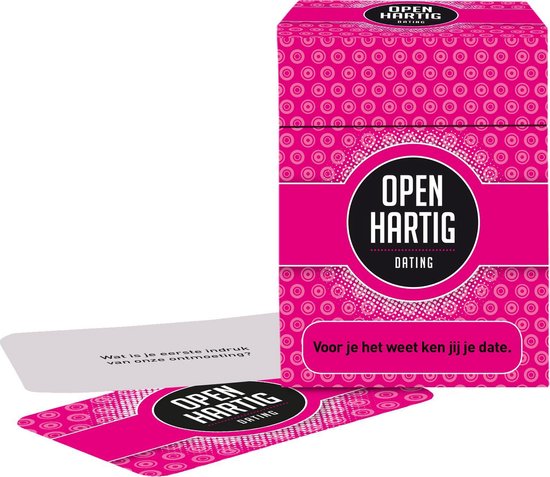 In de 'Openhartig'-collectie van OpenUp! is er nu ook Openhartig Dating met meer dan 100 afwisselende en
verrassende vragen om elkaar op een leuke manier beter te leren kennen. Of je nu voor het eerst een date hebt of hiermee al meer ervaren bent: daten blijft spannend! Want… hoe begin je een leuk gesprek op een ontspannende manier? Wat wil je nu eigenlijk echt graag weten van je date? En hoe kom je er snel achter of jullie de juiste match zijn? Met 'Openhartig Dating' is dit probleem zo opgelost.

Om de beurt trek je een kaart met een vraag als:
• Wie is je beste vriend(in) en waarom?
• Waar let je op als je iemand voor het eerst ontmoet?
• Wat is het meest avontuurlijke dat je ooit hebt gedaan?

Deze en alle andere vragen zullen zorgen voor onthullende antwoorden, ontspannen gesprekken en alles om elkaar beter te leren kennen, maar bovenal…, voor veel plezier met elkaar! Hoe handig kan het zijn, voor je het weet ken jij je date!
| Verkoper | | Prijs | |
| --- | --- | --- | --- |
| | Openhartig Dating - kaartspel | € 12.99 | Bestel |