Spel - Openhartig Go For It!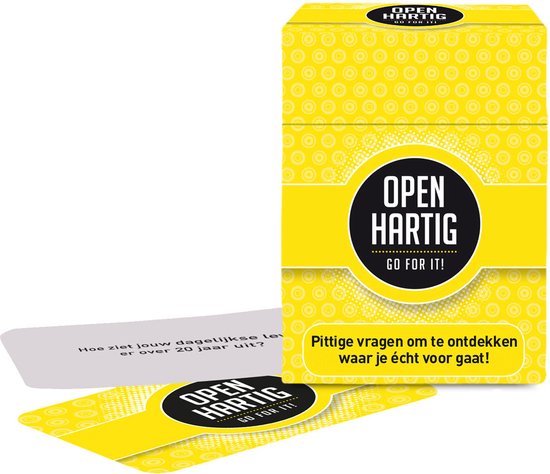 Wil je weten waar je echt voor gaat? Waar je echt enthousiast van wordt? Ontdek het met deze 100 kaarten met daarop pittige vragen die je aan het denken zetten. Openhartig Go for it! kun je gebruiken om jezelf beter te leren kennen. Maar natuurlijk ook een ander. Een uitdaging om te spelen met collega's, familie, vrienden. Hoe goed ken je elkaar eigenlijk?
Hup telefoons weg, quality time..voor jezelf, aandacht voor een ander. Met de Openhartig kaarten verbaas je jezelf telkens weer. Dit thema Go For it legt feilloos bloot waar je nou echt voor gaat, waar je nu echt enthousiast van wordt. Heb je verlangens en dromen over de toekomst of heb je alles al uitgestippeld> Wat wil je bereiken? Wie of wat daagt je uit of houdt je juist tegen? Waar ga je echt voor? Deze 100 inspirerende vragen dagen jou en je medespelers uit tot het maken van keuzes, het delen van visies en het vrijuit denken over de toekomst.
| Verkoper | | Prijs | |
| --- | --- | --- | --- |
| | Spel - Openhartig Go For It! | € 12.99 | Bestel |
Anderen keken ook naar