50 Grappige Spellen voor Onderweg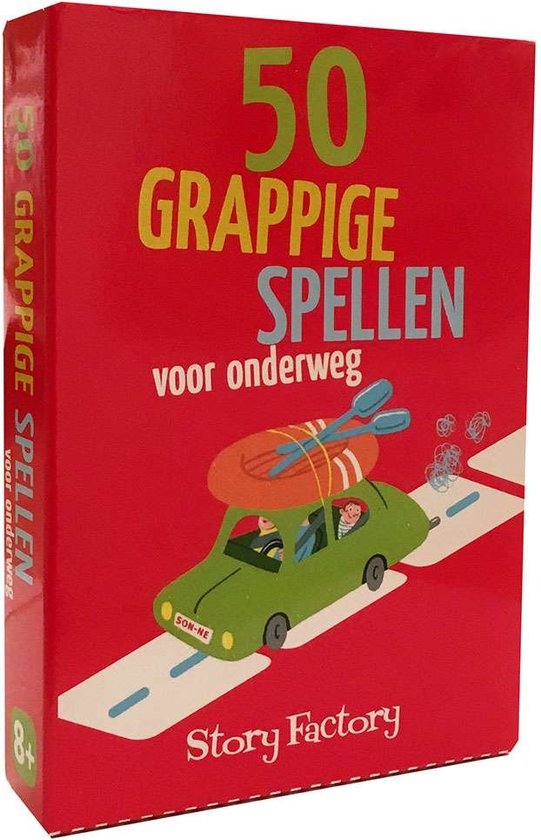 Superleuke spelletjes, opdrachten, raadspelletjes, verhalen verzinnen...zo kom je de reis wel door! Of je nou met de auto gaat of met het vliegtuig, trouwens ook thuis of op de plek van de bestemming zijn deze spellen superleuk. Soms denk je..tja daar had ik wel zelf op kunnen komen, maar dat is het nu juist. Vaak als je iets wilt verzinnen om eventjes een momentje tijd te doden heb je geen inspiratie en die geven deze leuke kaartenset nu juist wel. Mooi uitgevoerd in stevig bewaardoosje! Inspiratie voor spelletjes..eigenlijk overal!
50 grappige spellen voor onderweg....is een leuk kaartspel met 50 mooi geïllustreerde opdrachten, spelvoorbeelden, rekenen, nadenken, spelen, raden, verzinnen. You name it. Voor ieder wat wils! Spelletjes voor 1 speler, spelletjes voor 2 of meer spelers je vind er altijd wel iets leuks tussen om die saaie reis naar je vakantie bestemming door te komen.
Nederlandstalig en geschikt voor iedereen vanaf circa 8 jaar
| Verkoper | | Prijs | |
| --- | --- | --- | --- |
| | 50 Grappige Spellen voor Onderweg | € 10.99 | Bestel |
Anderen keken ook naar