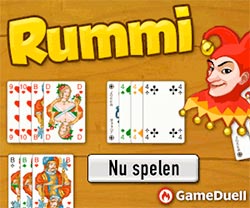 Rummi Tellen, tellen en nog eens tellen met Rummi, het leuke online kaartspel met een dikke knipoog naar het bekende bordspel Rummikub. Je speelt dit kaartspelletje niet met rummikubstenen maar met speelkaarten.
Rummi is niet voor niets een van de meest populaire spelletjes op GameDuell, want Rummi is echt spannend: je speelt met een vaste speeltijd en tegen echte tegenstanders van vlees en bloed.
Rummi Spelregels
De bedoeling bij het Rummi kaartspel is het volledig wegspelen van alle ontvangen speelkaarten. Het spel kan gespeeld worden met meerdere spelers. Elke speler begint met dertien kaarten en voordat hiervan setjes gemaakt mogen worden, moet de speler eerst uitkomen met 40 punten. Iedere speler die die 40 punten heeft neergelegd, mag kaarten aanleggen, bij de eigen setjes, maar ook bij setjes van de tegenstander(s).
De setjes bestaan bij Rummi uit tenminste drie kaarten en zijn opgebouwd uit één soort (klaveren, harten, ruiten of schoppen) of uit één getal of soort kaart. Een setje van klaveren 2, 3 en 4 is dus even geldig als een setje van drie verschillende vrouwen. De speler die het eerst al zijn of haar kaarten heeft weggespeeld, heeft het spel gewonnen.
Gratis online Rummi spelen op GameDuell is niet alleen leuk, maar ook heel spannend. Welke tegenstanders zijn sterker? En zorgt veel oefening er inderdaad voor dat het steeds makkelijker wordt om een partij te winnen? Je komt er vanzelf achter! Ook leuk voor rummikub liefhebbers: naast Rummi biedt deze spellensite ook het originele Rummikub aan. Kies voor Okey en speel rummikub met stenen of ga voor een klassieker als Hartenjagen.